INTRODUCING ALDIN, THE WORLD'S FIRSTGEO-CLIMATE BIODOME
Imagine stepping into a lush oasis, surrounded by the beauty of nature and diverse ecosystems, regardless of the outdoor climate. This dream will soon become a reality with the ALDIN biodome project in Reykjavik, Iceland, set to open its doors in 2026. ALDIN Biodome (ALDIN) will be the world's first geo-climate biodome, offering visitors a unique experience that celebrates nature and promotes sustainability.
The unprecedented partnership between the innovative Hjördís Sigurðardóttir, founder & CEO of ALDIN, WilkinsonEyre architects, and nature-inclusive experts, Makers of Sustainable Spaces (MOSS), is leading the charge towards nature-focused design at a scale that could aid in mitigating climate change while also enhancing well-being. This article offers a glimpse into the plans for the ALDIN Biodome and the team involved.
So, what is ALDIN?

ALDIN will be a one-of-a-kind destination that showcases the power of innovation and nature working together. The biodome will feature domes that create a microclimate, allowing for year-round growth of lush vegetation and diverse ecosystems. The available geothermal heat will provide the natural resources necessary to support the climate in the domes, enabling sustainable yet thriving ecosystems to flourish. Overall, ALDIN will be a celebration of nature, innovation, and sustainability. It will offer visitors a unique and unforgettable experience that is both educational and entertaining. With the world's first geo-climate biodome, Iceland is setting a new standard for sustainable tourism, and will undoubtedly be a must-visit destination for anyone who loves nature and wants to learn more about sustainability.
Who is behind the ALDIN biodome project?
The visionary behind the biodome is Hjördís Sigurðardóttir. She was raised on a farm in South Iceland and has a background in environmental planning, food science, and urban planning. Her love for nature and focus on the big picture drives her work, and she values people's virtues over their status. The main architect is WilkinsonEyre, known for creating bold and beautiful architecture that enhances its surroundings. They have landmark projects all over the world in an array of different climates including the 'Gardens by the Bay' in Singapore featuring the largest climate-controlled glasshouses in existence. MOSS, a team of nature-inclusive experts, will play a crucial role in envisioning the green master plan for the biodome. They will determine which green elements will be implemented and how visitors will experience and interact with nature once the project is realized. Other parties involved include Atelier One and Atelier Ten who provide their expertise in engineering and sustainability. The Visitor Attraction Company has been appointed as business case consultants, Core five as cost consultants while EFLA Consulting Engineers and Basalt architects are the local consultants along with Gagarin who are internationally acclaimed exhibition designers. ALDIN's success has been a true testament to the collaboration and expertise of the talented team involved who is responsible for bringing the project to life, creating a world-class destination that celebrates the beauty and power of nature.
What is the vision for the ALDIN Biodome project?
Hjördís was inspired by the concept of energy landscapes while studying in the Netherlands, which according to Hjördís refers to "planning the urban environment based on how much energy and materials could be saved using ecosystems as a model, so that the ecological footprint could be reduced, and a more diverse and exciting environment could be created." Her vision for the biodome is to create a sustainable, energy-efficient, and nature-inclusive recreational space that benefits both locals and tourists while promoting public health and well-being. The project has evolved from being a farm-to-table idea to a holistic ideology that focuses on well-being and the immersive experience of being surrounded by lush greenery in a geothermal biodome.
What values does the ALDIN Biodome project offer?
The ALDIN biodome will offer a wide range of values to visitors, from local food production to programs for health, wellness, and biophilic pleasure. The biodome will be a place to learn about sustainable agriculture and production methods, where visitors can witness the full cycle of food production and the cultivation of diverse plant life. Additionally, it will provide a space for programs focused on health, wellness, and biophilic pleasure, allowing visitors to connect with nature and improve their well-being.
What is the visitor's green experience when they come to Aldin?
Approaching Aldin, visitors first walk through a natural recreational park on the outskirts of Reykjavik, named the Elliðaárdalur Valley. Elliðaárdalur is a habitat for salmon, wild rabbits, and many birds such as the golden plover, the Eurasian siskin, the Greylag goose, the common redpoll, the mallard, the blackbird, and the common snipe, too. Leading up to ALDIN, a visitor might even spot an owl or a falcon. Upon entering, guests are met with warm, oxygen-rich air and oriented in the biodome comprising three areas. The main dome contains a rich subtropical environment, with exotic species growing in dense profusion. Inside the second dome, visitors can enhance their well-being by experiencing adventures and interacting with the lush vegetation in various ways. In the farm lab, fresh herbs, small vegetables, and leafy greens grow for 365 days a year. In this unique and vibrant environment of ALDIN, workspaces are rented out, wellness rooms are used for yoga and meditation, and dining rooms invite guests to taste and experience Icelandic specialties and learn how local produce is grown in a perpetual Spring. Invigorated by the natural world through biophilic immersion, when a visitor leaves, they are moved with the potential of nature. As the plant life constantly evolves, sensations derived from tasting unique and local flavors, listening to nature sounds, feeling surprisingly tactual species, and meditations in landscapes will continue to resonate with each guest in a peaceful and sensational way, time and time again.
Why is our connection with nature so important nowadays?
According to Kelai Diebel, the managing director at MOSS, "nature is an eternal source of inspiration for humankind. Even a small interaction with the natural environment has the ability to renew your senses and rejuvenate your mind". MOSS believes that for many people around the world, plants were a way to connect with nature during the lockdown, and since mid-March 2020, there's been a spike in plant sales for both homes and offices. Some might say that nature brings comfort in troubling times. One concrete way that nature impacts us is related to how planted spaces reflect the natural world and thereby relate to human physiology. The natural environment demands less directed attention and encourages free-flowing brain functions. In other words, looking at and being around nature relieves fatigue and enhances concentration as it resets our attention span.
What is different in regard to ALDIN's plants in comparison to other biodomes?
ALDIN combines geothermal and vertical farming technologies in an ecosystem of food plants and trees centered on well-being in a way never seen before. Next to that, its unique aim is to manifest how magnificently resourceful our world is and to highlight sustainable harvest techniques all while extending a hug from nature.
How do you get these exotic plants to Iceland?
The Netherlands is the number one exporter in the world of live trees, plants, bulbs, roots, and cut flowers. Cultivation is made at a large scale with a relatively low impact on the environment. For this reason, many of ALDIN's species will be exported from Holland to Iceland. There are rules that apply to the importing of plants and plant products. Next to the imported plants, many species are cultivated for ALDIN directly in Iceland well in advance.
How will Iceland, and in broader terms the world, benefit from the biodome project?
Iceland will greatly benefit from a biodome as demonstrated by the successful use of geothermal wastewater in their experimental garden. The potential benefits of a biodome in Iceland are enormous, especially as the country faces challenges in its agriculture industry due to its harsh climate. With a biodome, the country can grow crops all year round without being affected by the harsh weather conditions. This will not only increase food security and provide more locally grown produce for Icelanders, but it will also reduce the need for food imports, which will have economic benefits. Moreover, the use of geothermal energy in the biodome will help reduce the country's carbon footprint, which will contribute to global efforts to address climate change. The success of the biodome in Iceland could also inspire other countries to adopt similar practices, thus contributing to the global fight against food insecurity and climate change.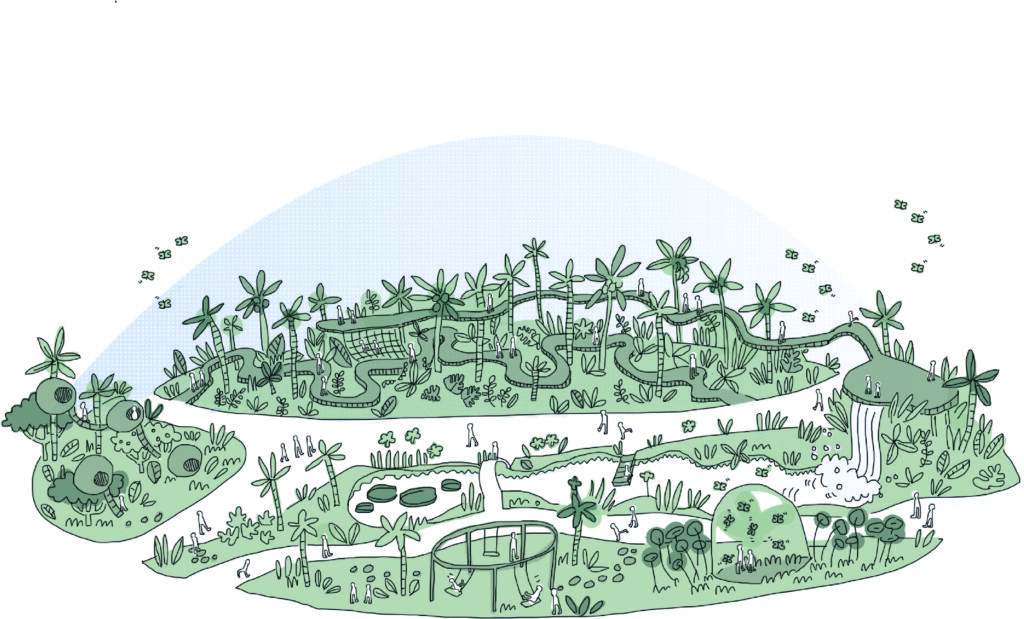 What makes ALDIN so unique?
The ALDIN biodome stands out from other biodomes for several reasons. Firstly, it is a commercial venture with a clear mission to promote health and wellness, and it has a proven business model with multiple revenue streams, making it an attractive investment opportunity. Secondly, ALDIN is designed to be an integral part of the city ecosystem, with easy access for everyone. This makes it an appealing prospect for both visitors and investors alike. Paul Baker from WilkinsonEyre says "For us, ALDIN is all about changing the land of fire and ice into a new world that is warm, inviting and lush. We are excited by the idea of watching the Northern Lights from a field of orchids or a banana grove […] our ultimate aim is to reconnect people with nature by showing its possibilities and variety. Above all, the experience should be an enjoyable and stimulating one." Finally, the biodome is focused on cultivating food plants and trees, creating a horticultural experience that will stimulate all the senses. The produce will be available for purchase, and there will be unique dining experiences to enjoy. ALDIN is poised to become a one-of-a-kind destination for visitors to be exposed to and experience a tropical, living ecosystem.